Recruitment criteria have evolved, now valuing soft skills as much as technical skills. There are many reasons for this upheaval: on the one hand, diplomas are no longer sufficient to ensure the candidate's success in the position concerned; on the other hand, the ever-shorter lifespan of technical skills. Added to this are the issues of talent retention and loyalty, which involve being in tune with the company's values. In this increasingly complex environment, personality and behavioural qualities are increasingly important for recruiters. How can they be identified? Evaluated? Why have they become so essential? Let's find out!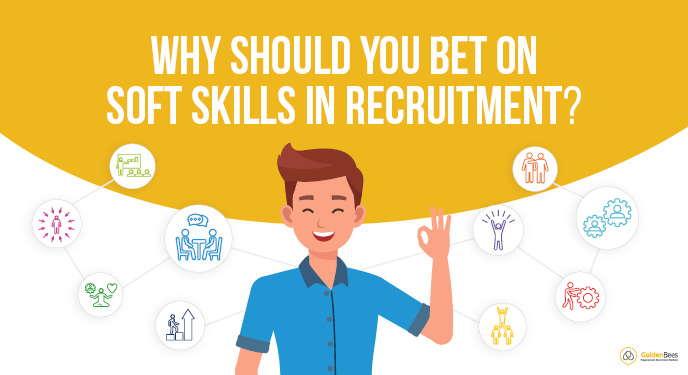 1. Soft skills, what are they exactly?
Soft skills refer to "behavioural abilities" related to a person's personality and interpersonal skills. More than just a character trait, they are skills that will enable an individual to adapt and interact in their professional environment. These skills are crucial for the successful integration and fulfilment of an employee.
Be it creativity, team spirit, emotional intelligence or leadership, they complement technical skills, the famous "hard skills". They promote better performance and a better match between an employee and the company.

While many employers follow the trend and roll out the red carpet for them, it's all about balance. When used together in recruitment, interpersonal skills and expertise are the keys to success for both the candidate and the company.
2. 5 reasons why you should invest in soft skills
a. Adapting to a changing world
Digitisation, automation and AI have quickly changed the business world. Companies now expect their employees to evolve as quickly as their environment. Candidates who don't tick all the boxes on the technical side often have the same or even higher chances of performing well in their job if they have good adaptability skills. Recruiting by relying on human assets, through soft skills, is a challenge that companies will have to take up in order to make a difference.
b. Looking beyond diplomas
Some recruiters still rely on diplomas or training. However, alternatives are gradually appearing and are placing interpersonal skills at the heart of recruitment. New approaches assess the candidate's profile as a whole: entrepreneurship, personal projects, visibility on social networks, peer cooptation, self-employment. Know-how and skills obviously remain important in assessing success in future projects. But what is most important are the personal qualities of these individuals and their ability to adapt. Innovative, audacious, creative, these profiles have soft skills that are precious for any company that can identify them and give them room to express themselves.
c. Preventing skill obsolescence
For HR departments it is becoming increasingly important that the skills of their employees are continuously updated. It is also a guarantee of employability for candidates. The rate of obsolescence varies according to the occupation: technical jobs, for example, are in the front line. But they are not the only ones concerned: skill obsolescence is true for every position. It mainly affects technical skills: their lifespan is between 12 and 18 months. Soft skills are more durable: these "soft" skills reflect the ability to adapt and therefore apply to all projects. Isabelle Rouhan, President of the recruitment firm Colibri Talent and co-founder of the Observatoire des Métiers du Futur, advises prioritising agility and curiosity in recruitment, which she considers essential.
d. Enhancing the employer brand
Fostering behavioural skills in recruitment also helps strengthen the employer brand. It means showing a genuine interest in candidates. It means understanding what drives them, what affects them. It means understanding their vision of the professional world, their way of looking at things. The interest in the behavioural skills of your candidates will push you to go further. To have more consideration for candidates throughout the recruitment process. This will ultimately improve the candidate experience and enhance your attractiveness to potential recruits.
e. Growing your pool of candidates
An interest in soft skills in recruitment also means broadening one's horizons. Why recruit candidates straight out of a mould? A company focused on the behavioural skills of its employees will welcome diverse and varied profiles and different points of view. And out of difference... comes innovation. What better way to boost the company's performance?

Beyond the ethical and moral value of this approach, you will gain access to a wider range of skills that will benefit your company's performance.
3. How to assess soft skills in recruitment?
Assessing soft skills during recruitment is a process that requires some preparation. In order to validate their fit with the company's culture and values, it is important to identify in advance the human skills required for the tasks involved, as well as those that are essential within your company.
a. Adapting your recruitment process
At the very least, you can mention the human skills you are looking for from the very first stages of your recruitment: in your job offers, during an interview, on your career website or on your company pages. Let people know which qualities you are looking for. The candidate will be able to plan ahead and apply in full understanding of the facts.
First of all, ensure that your job offers reflect the essential skills required for a specific position. For a Project Manager, this may concern the ability to adapt or the ability to remain calm.

Secondly, make the most of human skills in line with your DNA. This approach is part of the definition of your employer brand: what makes you unique? What values do your employees share? Once these characteristics have been well defined, make sure that your own soft skills are reflected in all your HR processes.
b. Role-playing
It is not enough to ask candidates if they have a quality. In order to detect soft skills, you have to go through a simulation. For example, ask candidates to describe a past event in order to highlight their abilities. What were their reactions in such a situation? What difficulties did they encounter? How did they deal with it? What did they prefer in a particular project? What management style do they feel most comfortable with?
Personality tests and other serious games can also be added to the recruitment process in order to better identify skills and motivations. There are several of them, the most widely used being the MBTI test to determine psychological profiles. You can also use the PAPI or SOSIE tests.

If a candidate catches your attention and you wish to go further in the evaluation of their behavioural skills, immersion or a pre-onboarding step will also allow you to see with your own eyes the skills implemented.
c. Meeting candidates in an informal setting
Another way of assessing soft skills is to meet candidates outside of the office. Exchanging with a candidate in an informal setting helps reduce bias views and obstacles inherent of the professional environment. The candidate is often more spontaneous and natural. It becomes easier to identify their personality traits. This recruitment experience will provide answers to your questions from the very first minutes: do your candidates seem destabilised by this setting or do they adapt easily? Do they seem lost or rather reassured? What posture do they adopt? Are they introverted? Extroverted?
Experts agree that certain soft skills will be particularly valuable in the months and years to come. Agility, networking, humility, curiosity: these are all assets that everyone will be able to develop and value in order to maintain their employability. On the employer's side, it will not be enough to identify and recruit profiles with these qualities. Your challenge will be to create the right framework and support to help them grow and express themselves fully. Whether through training or coaching, the attention paid to behavioural skills will be a key element in professional fulfilment and a new battle of the war for talent.
These articles may also be of interest to you: