Kangourou Kids is the French leader in human services. Selecting future employees, who are to be in direct contact with families, is very demanding. Therefore, the company needs to receive a large amount of qualified applications to select the right candidates. Kangourou Kids chose Golden Bees to meet its recruitment challenges using programmatics. In the article below, we will share with you how we've worked together.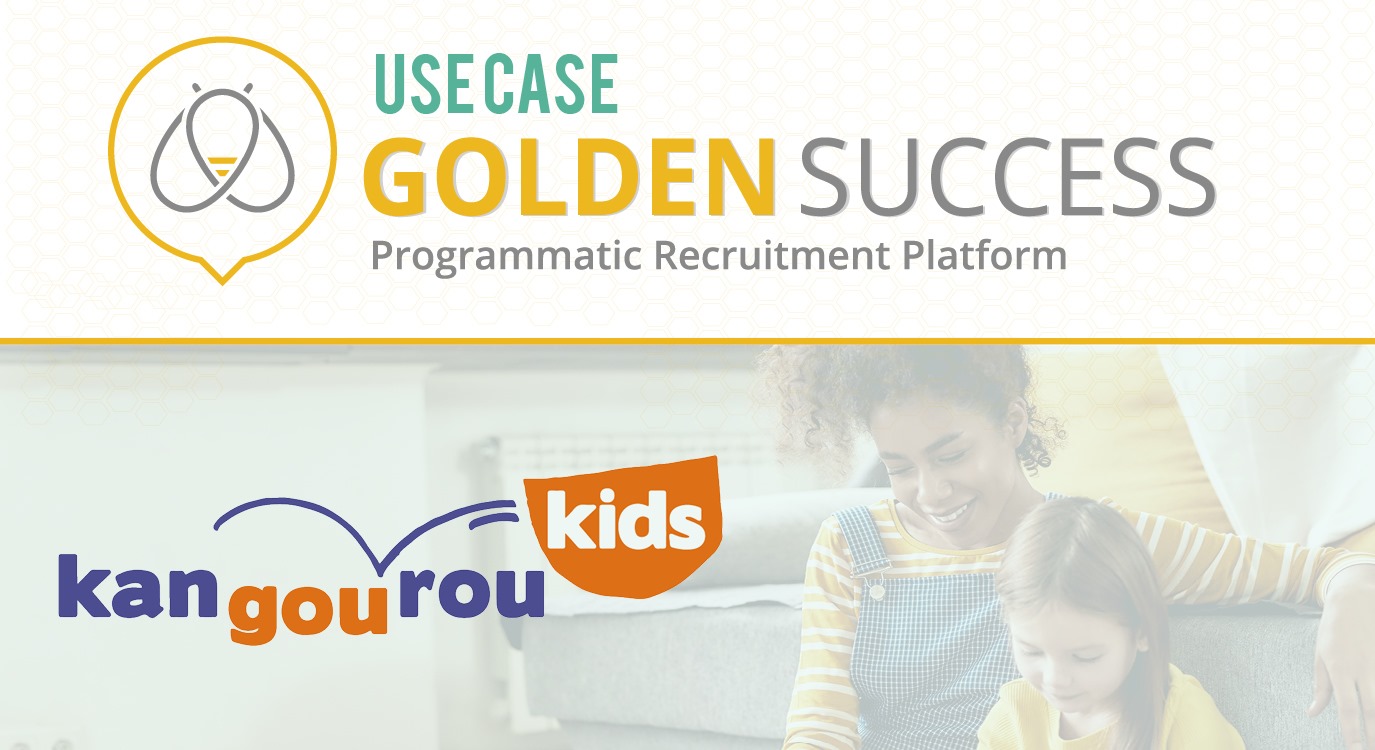 "Over 10% of the applications received by our agencies come from Golden Bees' tools".
Interview of Tiphaine de Kerizouët, Communications Manager at Kangaroo Kids
Tiphaine, can you tell us more about your work at Kangourou Kids?
Tiphaine de Kerizouët: "Hello, my name is Tiphaine de Kerizouët, I am in charge of communications at Joey SAS, that includes Kangourou Kids, Koala Kids, Beezen and the Kiwi Institute. These are all human services companies, therefore we hire a lot. Communication with potential candidates is our main concern: at Kangourou Kids, we are very demanding in recruitment, as we've been entrusted by parents to care of their children. But in order to be demanding we must have choice, and to have choice we must vary the communication outlets used."
Can you tell us more about Kangourou Kids?
T. de K.: "Kangourou Kids is a national-wide network of agencies specialised in home childcare. Founded in 2010, the brand has grown very quickly. We are committed to provide the best service! Parents entrust us with the keys to their home and their children. To earn their trust, we are very demanding in our recruitment (reference checks, interviews, skills validation tests) and above all we support our employees with a team of professional childcare supervisors (in each agency), tools to help them with their childcare and regular training (we have even created our own training centres, through the Kiwi Institute, to actively take part in professionalising the industry).
This positioning has enabled us to develop very quickly, to become the market leader (with a 120 local agencies, £34 million in turnover in 2019, 10,000 customers and over 8,000 employees) and, above all, to maintain our position as the top employer in France for the past 7 years (Capital survey, we rank 1st in the Human Services category)."
What are the recruitment challenges at Kangourou Kids?
T. de K.: "Families call on our agencies when they need a reliable person to look after their children. We need to constantly recruit in order to be ready to provide for the requests of parents and above all to provide great service. Thus, we need to receive a lot of applications in order to have a choice and to find the best profiles as quickly as possible, those who best match each request.
Another important element is that most of the needs of families are related to picking up children from school: everyone is looking for someone available between 4.30 pm to 7 pm! Unfortunately, we can't optimise schedules as much as we'd want and combine assignments, so we need to hire a lot of people (almost one employee per family), for mainly part-time jobs (from 4 to 20 hours a week depending on the need).
In order to attract the best profiles, and thus provide the best service to parents, we are committed to developing our employer brand. This involves everything we do internally to pamper our employees (tools, supervision, training, etc.), but also external communication about this work environment. We are very active on social networks to share the daily life at Kangourou Kids, whether at the agency or during childcare at home!"
"Working with Golden Bees, combined with the algorithm, has allowed us to halve the cost per application"
Why did you choose Golden Bees?
T. de K.: We hire on average 1500 people every year, so we are constantly looking for new candidates and new pools of applicants. When Golden Bees presented us its recruitment assistance tool, we were interested in the tool's impartiality, that allows us to optimise the distribution and promotion of our job offers. In recruitment, we rely too much on subjectivity and we sometimes make mistakes we we're all searching for candidates in the same place "because we know it's a good pool of talents": it may be a good pool of talents, but it is not the only one! Golden Bees' algorithm relies on statistics to optimise our budgets and boost our offers "in the right place, at the right time, with the right profile" which is really what appealed to us with their offer.
After launching the campaign, we had a lot of discussions with our Account Manager to optimise the form and thus better qualify the applications, by adding headings or making some information optional (for example, we removed the mandatory CV as we realised that it was a hindrance to the application process whereas it was of little interest to recruiters, who instead relied on the information contained in the application)."
How did our programmatic recruitment solution meet Kangourou Kids' needs?



T. de K.: "This work, combined with the algorithm, has enabled us to halve the cost per application while increasing our recruitment rate (+4% of monthly hires). Today, it is the cheapest cost/application that we have outside job boards."

What are the advantages of using Golden Bees for Kangourou Kids' recruitment?



T. de K.: "By accepting the idea that an algorithm would be "smarter" than us, we made the right choice! The objectivity and learning capacity of the algorithm, combined with the monitoring provided by the Golden Bees teams, has really enabled us to improve the quality of the applications received. More than 10% of the applications received by our agencies today comes from Golden Bees tools, and these applications have been "pre-selected" thanks to the optimisation on the application form. Therefore, recruiters spend less time "scanning" applications.
In addition, thanks to the regular discussions that we implemented, we have precise feedback on the evolution of applications, sources, etc. This gives us a global view of the company's activities. This gives us a global vision of the evolution of the online recruitment market, which is very interesting! These figures have enabled us to optimise the titles of our job offers to make them more attractive."
These articles may also be of interest to you: