KPIs (Key Performance Indicators) are indicators that evaluate the performance of a given action. In this article, we will focus on recruitment KPIs: still rarely monitored by recruiters, they represent a crucial source of information for optimising the performance of a recruitment campaign. That is what programmatic recruitment is all about: this innovative, performance-based HR solution provides access to a wide range of indicators to help you recruit more efficiently.
Programmatic recruitment allows you to get performance indicators to optimise your campaigns on an ongoing basis, as well as strategic KPIs to enhance the value of your HR actions among your employees.
It's time for HR to bring numbers back in the spotlight! Discover our shortlist of the main indicators to follow for your recruitment campaigns.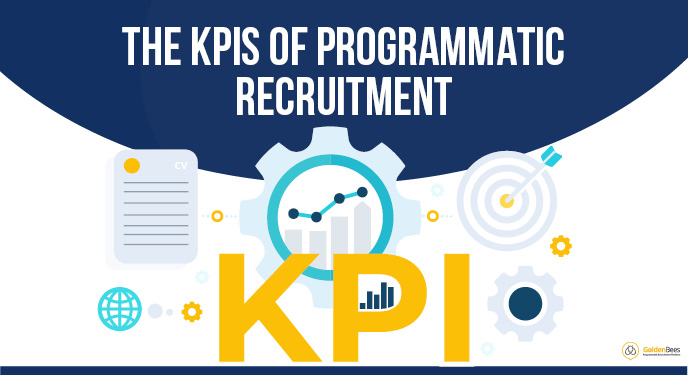 1. Programmatic recruitment, an essential tool for measuring KPIs
Programmatic Recruitment is an HR solution that automates the purchase of advertising space to advertise job offers. Using a deep learning algorithm (automated learning method), it will identify online users who match the criteria defined by the advertiser and show them a personalised job offer. The recruiter will then be able to display targeted advertisements throughout the web: job boards, displays, social media, streaming platforms or even DOOH.
Programmatic recruitment is based on transparency. Its objective: to display job offers at the best price possible and to optimise the campaigns according to their performance. Each indicator is monitored in real time to optimise campaign performance: this solution is essentially performance-based. KPIs are at the heart of programmatic recruitment.
This recruitment technique has several advantages for the recruiter:
Refined pre-targeting of candidates and optimisation of campaigns, which results in more qualified candidates.
The distribution of HR job offers on the entire web, increasing the visibility of offers.
Automation of the recruitment process, saving time for recruiters during the CV sorting phase and the selection of candidates.
Optimised budgets for better performance. Communication actions are measured and fine-tuned with a return on investment approach, thanks to regular monitoring of the recruitment or employer brand KPIs defined by the client.
Access to a wider audience, to reach active and passive candidates.
2. The KPIs to visualise your Return on Investment (ROI)
How do you monitor the effectiveness of your HR recruitment campaigns? By using programmatic recruitment, you will be able to monitor several profitability indicators to evaluate your recruitment campaigns.
a. Classic indicators
The number of impressions, clicks, ads viewed, CVs submitted and qualified CVs are the classic indicators that will feed the optimisation algorithms, and give you a first level of information on the performance of a job ad or employer brand ad.
b. Optimisation indicators
The attractiveness of a job offer can be assessed by measuring its click-through rate. This is the ratio between the number of views and the number of unique clicks generated. The higher the rate is (between 3 and 5%), the better the ad and the distribution channel perform. If it is low (less than 1%), it will be necessary to change some parameters such as the distribution channel (jobboard, general ad websites, social networks, banner ads, etc.), the content and title of the ad or the budgets per position and per channel. It gives an indication of the attractiveness of the offer, but needs to be studied in addition to other indicators, such as the application rate, for example. Indeed, a banner ad can receive a lot clicks but few real applications in the end.
It refers to the number of candidates submitting a CV after viewing a job offer. It is calculated by dividing the number of applications by the number of clicks on an ad, all multiplied by 100. This rate can vary according to the channel used: job sites generate a rate of between 3% and 7%, while new job advertising media have variable rates ranging from 2% to 10% depending on the targeting.
The cost per qualified application
If there was only one to choose from, it would be this one. This indicator corresponds to the budget allocated to your recruitment campaign in relation to the number of applications received for a position. Using this KPI, you can measure the ROI of your recruitment campaign and determine how much it cost you to receive a qualified application from your job offer. However, this is an indicator that is rarely used by recruiters: according to our study, 60% of recruiters do not track their Cost per Application.
This indicator will probably be the most universal indicator for valuing HR actions within your company.
3. The adjustment variables of a recruitment campaign
The analysis of specific indicators provides real value in understanding the overall performance of a recruitment campaign. However, it is only by comparing the performance of all the variables that it is possible to optimise a campaign, with the aim of getting more applications at lower cost. 3 types of variables are particularly interesting to adjust a recruitment campaign on an ongoing basis:
Candidate information: their location, age group, gender distribution, time of day or day of the week they applied etc. This information will enable you to adapt and optimise your recruitment strategy, depending on the profiles of candidates and their behaviour.
Platform performance: Whether you post your ad on social networks, a jobboard, a generalist job website or any other channel, programmatic recruitment allows you to identify the source of applications that works best - in terms of Cost Per Application, or the volume of applications generated, for example.
Performance by job type: this indicator allows you to adjust your investment according to the attractiveness of your jobs. Let's take an example: you are looking for a sales and marketing manager. Your marketing job offer is receiving a lot of applications at low cost, while you are having difficulties with the sales position. By studying the volume and cost of applications by job type, you can intelligently distribute your budgets to reduce your expenses for the marketing job and increase your investment for the sales position.
This is not a comprehensive list, we only share 3 variables. The location of an offer, the profile of the candidate (passive or active), the title of the ad and its description, the format of the ad, etc. ... are all variables that influence the performance of an offer. The use of a task automation (or programmatic) platform thus enables the best possible performance to be achieved. Decisions are governed by optimisation algorithms to meet the objectives set in terms of costs, application volume, time, etc. for each position.
Flavien Candela, Head of Marketing at Uptoo, underlines the advantage of these indicators for decision-making: "The [programmatic recruitment] platform is a real decision-making tool. We can very quickly see which position works the best, in which location, and therefore make informed decisions to quickly adapt our strategy".
---
Want to know more about programmatic recruitment? Download our white paper:

---
As you can see, it is essential to follow your KPIs to recruit better. Coupled with precise objectives, these indicators will serve as a ranking tool to help you in your decision-making process. They will allow you to better distribute your budgets and continuously improve the performance of your campaigns. In the long term, this will help you be more agile and flexible to optimise your recruitment process.
These articles may also be of interest to you: