Retargeting consists in retargeting an audience that you have already attracted in your recruitment ecosystem (career website, social networks, etc.). It is an interesting technique when you have difficulties recruiting, engaging candidates or attracting new recruits. The reflex to seek out new profiles persists for a good number of companies. However, capitalising on those who have already shown an interest in your company increases your chances of converting them into candidates and optimising your investments. An essential solution for the modern recruiter: discover the benefits of retargeting in recruitment.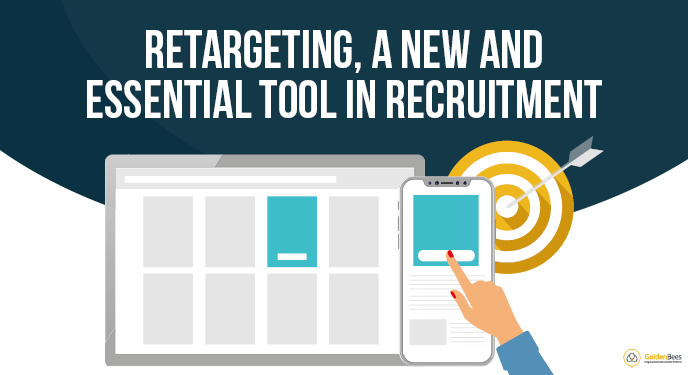 1. What is retargeting?

a. Definition
Retargeting, or retargeting advertising, consists in targeting online users depending on their browsing history. When visiting an e-commerce website, the products or services we review will be shown to us again during our subsequent visits. You have probably already noticed this. More specifically, this technique consists in displaying advertising messages to an audience that has previously visited your website, with the aim of taking action (purchase if it is an e-commerce website, applying if it is a career website...). By remembering their audience and thanks to the repetition of advertising messages, advertisers convert more.
b. How does it work?
The process is quite simple, despite some technical terms, like cookie, data, conversion funnel and retargeting. The cookie identifies you on the website you have visited. From then on, your interest in the product or service is recorded. You are now identifiable and you will be offered advertisements matching your browsing history.
c. What are the main benefits?
The benefits of retargeting are numerous. Increase brand awareness, boost the interest of your targets, convert your website visitors into customers, increase sales, send targeted messages based on interests, etc. As you can see, this approach has many benefits. But what about recruitment? Why should the HR department adopt this method as well?
2. Why use retargeting in recruitment?
Tensions in the labour market have forced recruiters to innovate in their approaches to capture the best profiles, whether active or passive. With a great deal of digitisation, artificial intelligence and automation, the HR department is gradually adopting marketing techniques to meet the challenges of attractiveness, communication and optimisation... all, of course, in compliance with GDPR. Programming and retargeting quickly appeared as relevant solutions for recruitment.
a. Engage the audience of your career website
Retargeting can help you get the most out of your career website's audience. You're certainly analysing the traffic to your career website and that's great news! But you're probably wondering how to use it: what to do with those visitors who browse your website without applying? Retargeting gives you the opportunity to re-engage those visitors who have already shown an interest by converting them into candidates.
b. Send a personalised message
Retargeting is based on the behaviour of your audience. It therefore allows you to adapt to online users and provide them with a personalised message on a wide range of online media. Depending on the journey of your visitors on your website and the data collected, you can imagine different scenarios and send them a message in line with their research. If you have identified certain visitors who have viewed your job offers without applying, don't hesitate to show them the job they were interested in again. Another example: you want to convert your visitors into participants for an event. You can re-target them to encourage them to register, by including the subject of the event in your message.
c. Increase your conversion rate and reduce the Cost per Acquisition
Retargeting means optimisation and performance. Performance indicators such as Application Rate or Cost per Application or Conversion are monitored throughout the campaign. This allows you to be highly reactive and adjust your campaign in real time, to optimise your recruitment performance. Retargeting allows you to get up to 40% more applications: enough to boost the ROI of your HR projects.
d. Available formats
A wide range of various formats are available for your retargeting campaigns and depending on your goals. From banners or banner ads, which are ideal for recruiting candidates, to video and audio formats, your advertising can bring added value to your company and the different open positions.
3. HR uses of retargeting
a. Recruitment campaigns
Retargeting offsets a lack of performance in the acquisition of applications. A strategic tool at a time when traditional job boards are losing momentum. Retargeting is not limited to active profiles. It can be used to address broader targets, i.e. passive candidates or candidates who are open to new opportunities without being on the lookout.
Thanks to retargeting campaigns, these so-called passive profiles will gradually become more active, more committed, until they become real candidates by sending in their CVs. Using browsing habits, your advertisements will be able to reach those sought-after profiles that you wish to hire. Through banners or media packaging, you will be able to capture the attention of your audience and generate more qualified candidates at a significantly optimised cost. The KPIs to follow: the volume of applications, the evolution of the Cost per Acquisition and the conversion rate.

Evelyne, Data Analyst at Golden Bees: "Retargeting dramatically reduces the CPA (Cost per Acquisition) of our campaigns. In general, it's the best performing audience. Ideally, we mix targeting and retargeting. First, we use the audience targeted by the client to bring them to the website with targeting, and then we re-engage the website visitors with retargeting. By doing so, the retargeting audience is continuously supplied with new potential candidates".
b. The employer brand, to support the recruitment process
While the use of retargeting for recruitment purposes seems the most obvious, the employer brand can also benefit from this approach. A complementary approach that will support recruitment efforts.
Indeed, if your audience has already shown some form of interest, it will not be so easy to convert them into candidates. Enhancing your appeal and brand reputation will require the combination of your employer brand messages with your campaign, in order to reinforce your company and its assets in people's minds.
Video and audio formats are extremely effective in boosting engagement and supporting recruitment efforts. By broadcasting a corporate or company video, you increase your chances of conversion. Similarly, presenting a job through an audio clip will place your campaign in a virtuous circle of optimisation and results. The objective: to develop your reputation, to be assessed through indicators such as the 100% viewing rate or the 100% listening rate, for example.
By combining employer brand messages with your recruitment advertisements, you will be able to strengthen your company's reputation and attractiveness, and ultimately receive more applications.
It goes without saying that retargeting is not enough on its own: it also supports other communication initiatives. Combined with personalised messages and formats, it becomes a powerful ally in optimising all your initiatives. Performance-based retargeting allows you to optimise your candidate journey and achieve more conversions. Retargeting is now a key part of the digital recruitment process and of the employer brand.
These articles might also be of interest to you: