Digital technology has profoundly transformed the business world, starting with human resources management. The digitisation of the HR sector is now reaching its peak, with many positive externalities at stake. From personnel administration to recruitment and training, what are the advantages of digitising HR?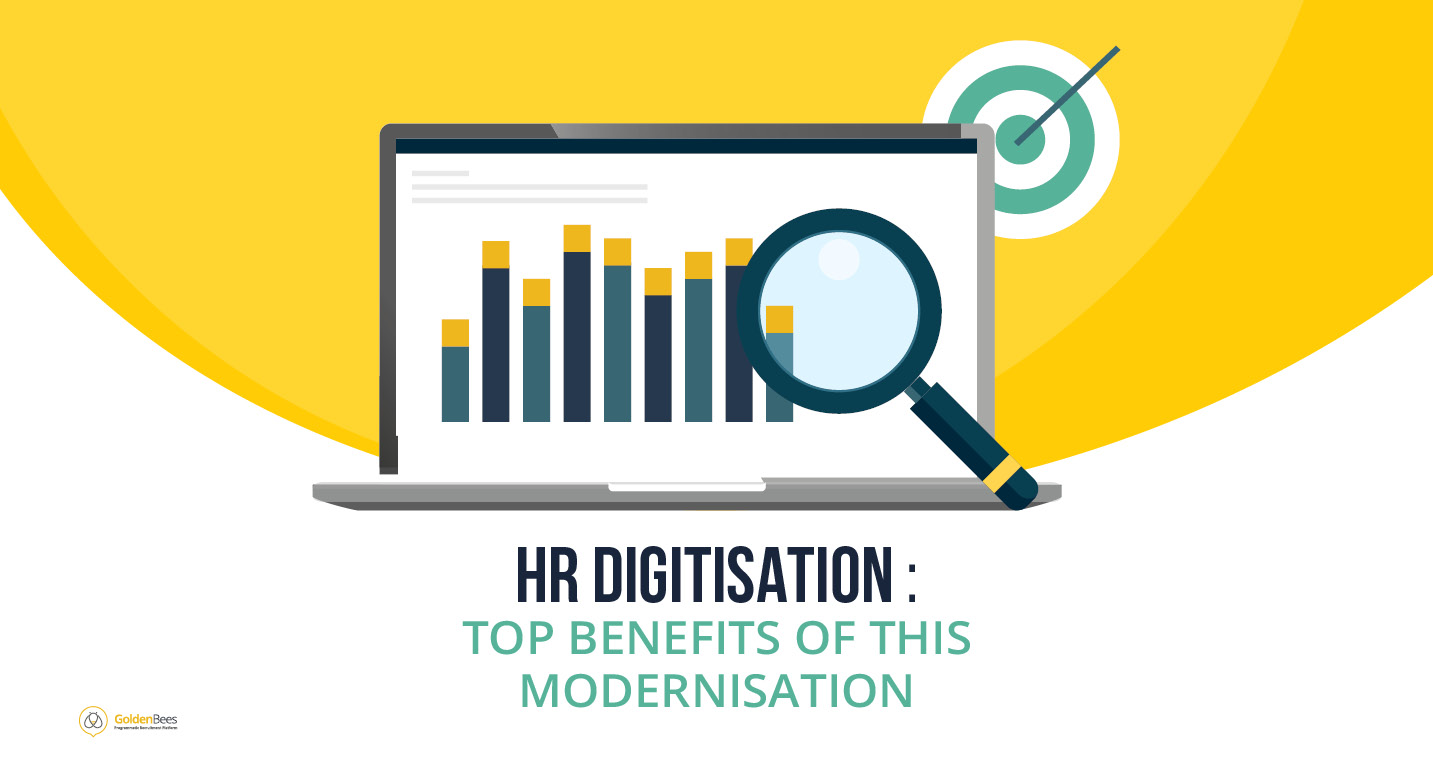 1. The end of low valued tasks
No more manual document organization, filling Excel spreadsheets or mailing payslips. Thanks to the digitisation of HR processes, documents are dematerialised and time-consuming tasks are greatly reduced.
The management of paid leave, for example, is greatly simplified by the arrival of new software on the market: employees file their requests via a dashboard, whether or not the HR department validates them according to the schedule. A good way for HR to gain efficiency and speed. And saving time also means saving money. Because low added-value tasks are automated, productivity increases and payroll and overtime costs are reduced.
A major challenge for companies, this time saving will allow HR to focus on their core business: people and talent management, but not only... The digitalisation of the HR department has put it back at the heart of the company's strategic challenges. A study carried out by APEC in 2015 showed that HR positions were taking on greater responsibility in companies (between 2005 and 2015 + 7% of seats on the Management Committees of French companies).
2. A smoother relationship with employees
Digitising HR processes improves the well-being of employees. Their requests are processed more quickly and their individual steps, such as sending their expense reports or checking their holiday balance, are simplified.
For Sébastien, Healthcare Innovation Director at a major French company, the results are compelling: "After 10 years in the same company, I was afraid of the 'onboarding paperwork' in my new company... But in the end, everything was sorted out in just a few clicks! The HR department of my new company had digitised the entire arrival process, all the exchanges of administrative documents took place in a digital workspace".
Employees also earn more autonomy thanks to e-learning, which gives them the possibility of training online through MOOCs or virtual classes. Where individuals can develop their own skills at a significantly reduced cost since there are no more travel expenses.
3. More secure data
The digitisation of HR processes paves the way for the electronic management of all documents. Dematerialised pay slips, electronic signature of employment contracts, job descriptions, training catalogues, CVs... Stored in the cloud or on local servers, these documents are just a click away for a better employee experience. Dematerialisation secures exchanges and must comply with the GDPR. It enables processes and documents to be tracked and avoids any risk of loss of HR data.
At the same time, this digitisation of HR leads to a reduction in human errors. The various solutions (automation, back-up, history, etc.) reduce the tasks of human resources teams while encouraging them to concentrate on their core business. Errors and mistakes are therefore less frequent and processes run more smoothly. Similarly, a digital file can be saved in a digital safe or cloud, while a paper version can easily be lost or destroyed.
4. Technology encourages HR departments to use new recruitment strategies
We no longer recruit as we did yesterday. The recruitment process now depends mostly on digital tools to receive applications, conduct remote interviews, attract the best profiles and evaluate them.
Digitalisation, through social networks, job boards and career sites, facilitates sourcing. CV sorting softwares shorten the recruitment phase and make it easier to find the right person thanks to new approaches based on algorithmic sorting.
The digitalisation of recruitment is a time saver for both the recruiter and the candidate, a real plus in a context of talent war, to improve the candidate experience and therefore the employer brand.
In order to improve processing speed and efficiency in online recruitment, recruiters are now using innovative approaches such as HR programmatic. Through this system, the distribution of job offers is automated providing candidates with personalised job offers. The entire recruiting process is digitised and automated - from identifying candidates to screening CVs, including the distribution and optimisation of the campaign. A new form of recruitment that is highly effective in attracting younger generations, who appreciate the fact that job offers come straight to them.
These articles may also be of interest to you: