The digitisation of HR provides many tools to broaden the pool of candidates and to reach out to passive candidates. Companies are now using these new tools to attract the right talent and stand out from the talent war. A difficult task to which the power of the internet brings new solutions: an overview of the best practices for engaging and recruiting passive candidates.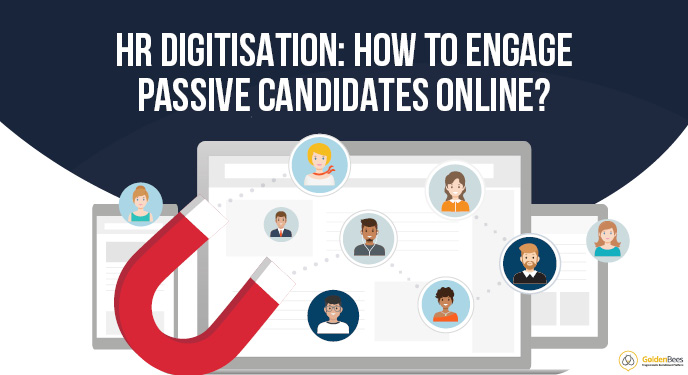 1. The content strategy to broaden your pool of candidates
The HR department is going digital and learning from marketing strategies: content is king. In order to build a relationship with an audience of passive candidates, to sustain it and to use it in the long term, it is essential to offer quality content. This strategy, linked to the digitisation of HR, enables the company to broaden its audience to include passive candidates.
This is a long-term investment, which requires the involvement of many stakeholders as part of the employer brand. The content strategy has a direct impact on employer attractiveness: according to a Viadeo survey, 95% of applicants look up a company before applying. It is therefore imperative to take care of your content and to communicate in a balanced and accurate manner on all the fundamentals of the company (its business, products or services, innovation), its commitments ( social, environmental, human), its HR offer but also through its various spokespersons (managers, employees, HR, etc.). This is the key to hiring passive candidates and ultimately turning them into real candidates.
In short, giving a global vision for more credibility, a reinforced attachment and a chosen commitment... The foundation to grow your audience and attract passive candidates.
2. Inbound Recruiting to nurture potential candidates
The second technique resulting from the digitisation of Human Resources is Inbound Recruiting.
This approach consists in attracting passive talents rather than looking for them. The objective is to create a pool of talent to nurture and convert into candidates when the right offer arises. The aim is to build a long-term relationship by creating content adapted to your target profiles and by attracting their interest in joining your teams in the short or medium term. In practice, you will activate various digital channels (SEO, blog, career site, company page, etc.) to introduce your target audience to your value proposition.
It is a kind of seduction phase to convince your audiences to follow your news and join your community. This is a long-term process that will pay off in the long run in order to better recruit.
3. Display to target new talent
The digital recruiter has understood this: simply placing an offer on job boards is no longer enough to hire. However, new opportunities are opening up for recruiters. Displays now make it possible to widen their pool of candidates and target passive candidates.
This innovative medium completes the panel of digital HR tools. It is now possible to use Display to target specific audiences and optimise the performance of offers. It is one of the channels used in programmatic recruitment to better recruit or promote the employer brand. Original formats, increased impact: Display brings new life to traditional job offers and attracts new audiences:
Creative in both format and content, Display advertising campaigns help promote the employer brand and the unique characteristics of a company.
Mobile, they are used in the most relevant media and help promote your messages where your target audience is found. They enable you to reach passive candidates and thus diversify your candidate audience. Display advertising allows you to introduce your employer brand and spark the curiosity of new targets and potential candidates.
Although there are many different Display formats, they are not limited to banners and other blocks. Advertorials, for example, allow you to highlight your expertise by promoting a more editorial approach.
Another original format is interactive content, which offers a differentiating experience with the brand. More engaging than simple reading, more personalised and more engaging with the user. Among the benefits of this technique are better memorisation, a better conversion rate and an enhanced brand image.
---
Want to know more about innovative recruitment solutions? Discover programmatic recruitment with our white paper:

---
4. Better engagement with newsletters and mailing lists
To engage your audiences and keep them interested, maintain the relationship. Regularly contact your aspiring candidates to give them information on your latest news or recruitment needs. Many recruiters spend their energy searching for new talent or finding new profiles, at the expense of a pool of candidates who have already expressed an interest in the company. Candidates who are interested in the company, whose email address, location, interests, type of position sought, expectations, etc. are known to you. All these elements can be used to send these selected candidates information about the company, its environment, its projects and its opportunities.
In short, mailing lists are a relevant digital HR tool for activating and animating a community of passive talents.
5. Retargeting campaigns
Retargeting is the process of reconnecting with an individual who has already interacted with your company. It is a great way to attract passive candidates. In short, you are looking to reach a candidate who is potentially interested in your company, but who has not yet applied. They may have visited your career site, or clicked on one of your job offers, for example.
Thanks to retargeting, you will be able to support this target candidate by offering dedicated content on different media and formats. Let's take an example: a candidate watches your employer-branded pre-roll video on Youtube. He shows interest in your message and watches the entire video: he will then be targeted elsewhere online by one of your job offers.
By inviting this passive candidate to continue the conversation, you increase your chances of seeing him or her become, if not a member of your community, a real candidate.
6. Social media targeting: a must-do for recruiters
Mainly used in their early days as a digital storefront, today social networks allow you to accurately target your potential candidates. A valuable tool for getting the right messages to the right people. Engagement is increased, and the impact of communications is multiplied tenfold. But beware: you can't just go headfirst. Do some in-depth work on your culture and values beforehand to communicate well. To make targeting more effective, this introspection should be combined with a detailed understanding of your competitive environment, the expectations of candidates and the specific characteristics of the profiles you are looking for. The challenge: to differentiate yourself from competitors who also defend their employer arguments (career, job details, working environment, advantages, etc.).
This analysis of your identity and your competitors, coupled with the identification of your targets, will enable you to lay the foundations of an effective targeting strategy to increase the performance of your digital recruitment campaigns tenfold.
7. Leverage your expertise to boost your reputation
This horizontal approach applies to all the levers mentioned above and is part of a virtuous circle to engage passive candidates. It highlights your expertise and values with your external audiences (candidates, investors and opinion leaders) and increases your attractiveness.
It also contributes to the visibility of your employees internally. Yes: it is your employees who make you an expert. The company, as a brand, cannot assume this role alone. It must identify the talents of its employees to make them ambassadors of the company's value. Once again, the HR department can draw inspiration from marketing and rely on influence marketing. A new tool linked to the digitisation of HR, influence marketing boosts the awareness of your employer brand while engaging an audience of passive candidates. By relying on recognised in-house experts, or by developing co-branded content with partner companies, the company will strengthen its credibility and perceived expertise. This is a good way to broaden the audiences reached and to promote the company to aspiring candidates. From the most traditional content (editorial, display, blog posts...) to the most interactive and engaging one (webinar, live, podcast...), the possibilities are endless - as are the benefits.
While the digitisation of HR provides many tools and techniques to develop your brand awareness and the commitment of your targets, keep in mind that at this stage, what we commonly call "passive candidates" are still just targeted audiences. A person only becomes a candidate when they decide to apply for a position in your company. This misuse of language reflects a kind of eagerness by companies to include in their pool of candidates individuals who will first need to be seduced and convinced. This is a long-term process where consistency and employer image will guide your communication efforts.
These articles may also be of interest to you: