Writing a job offer is a crucial step in the recruitment process. As the first point of contact with the candidate, it has a considerable impact on the volume and quality of applications. How to write an attractive job offer? What are the best practices for optimising the performance of your offers? Our data is at your service: discover our advice on how to write an appealing job offer and put all the chances on your side to attract the right candidates.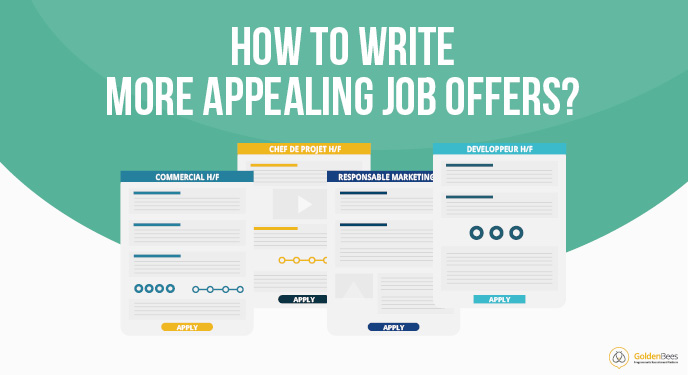 1. A short and striking title
Be precise: in a test conducted by an American company, for example, the term "cashier" outperformed the term "team member" receiving 60% more applications. The same is true for industry-specific words: specific abbreviations or headings work better than generic terms (+40% of applications).
Logic: in the same way as for a classic search, the results of a search on a job engine are ranked according to their relevance. A keyword commonly used by your typical candidate will help you position yourself better in their search results, as opposed to an abstract title such as "Solution Evangelist" or "Office Hero". To find the best keywords for your offer, use Google Trends. This tool will give you good indications to determine the attractiveness of your titles.
You should also pay attention to the number of characters in your title. We advise you to use less than 65 characters to rank better on Google for Jobs.
2. Checklist of the necessary information for candidates
A good job offer should first of all contain the following information: the presentation of the company, the challenges of the position, the missions, the profile sought and the type of contract offered. This essential information can be found on the majority of job offers posted by recruiters: these are the "classics" and bare minimum. But candidates also expect other information... which recruiters do not always mention. These include:
Location: we advise you to specify the city, postcode, region and country for maximum visibility. Again, this is a referencing requirement: an offer with a precise location will be rank better in a location-based search.
Salary

: Studies show that this criterion is very important in the eyes of candidates. Including a salary range in your offer could

increase the number of candidates by 50%!

But beware: candidates also criticise salaries that are inadequate with respect of the position on the job offer. Before posting the salary range, make sure that the salary offered for the position is equal, or even above the market average. Don't forget to check information related to salaries depending on the position, industry and location.
3. The job description

Another element to take into account when writing a job offer is the job description. According to an American study, candidates spend on average 49 seconds on a description to decide if an offer doesn't suit them, and 76 seconds if they consider it worthy of interest. Like the title, the job description must therefore be short and striking, use SEO best practices in order to get attention:
Divide the description into several paragraphs
Prefer short sentences
Put words in bold
As an indication, studies carried out by various recruitment agencies show that the optimal length for an offer varies between 700 and 2000 characters - i.e. between 150 and 300 words.
Basically, there are two things to watch out for when writing an appealing job offer:
The 5-legged sheep syndrome: Be careful not to demand too many skills for your offer - or at least specify that it is possible to apply without meeting all the criteria. This would deprive you of many candidates who complain about offers requiring impossible to find profile.
The boring job offer: Although you don't want to be too creative, make sure your company's identity is visible in your job offer. According to our study on candidates' expectations, the company's commitment has a considerable impact on the choices made by candidates. 37% of 18-34 year olds say they are influenced by the company's commitment and solidarity when choosing a job. The Figaro Recruteur figures also reflect this search for meaningful jobs: 78% of executives believe that the environmental issue could influence their decision to change jobs in a company. Therefore avoid the stereotypical introduction of the type "Company leader on its market [...]". Talk about your purpose, the history of the company and its mission, your values and your impact... In short, include a bit of storytelling to make your offer stand out - and above all, try not to lose your candidate along the way.
4. Adapting to the new habits of candidates
a. Create an augmented job offer
A picture is worth a thousand words, and the same is true for your job offers. Candidates really appreciate this immersive recruitment approach. What better than a video to discover a company's values, who better than an employee to present the challenges that drive it on a daily basis?
Our advice: try out new formats for your advertisements. Insert videos and photos to better convey your corporate culture. This content may seem long to create, but it pays off: according to the American CareerBuilder job board, job offers with video receive 34% more applications! As far as video communication is concerned, the Super Agency identifies 4 main themes to do videos about: employee interviews, virtual office visits, "a day into the life of..." and presentations.
b. Be where candidates are
Making your job offers more attractive also means adapting to the new upcoming habits. According to IFOP, 1 in 4 executives apply from their smartphones, especially young graduates who want to apply in just a few clicks. Hence the interest in simplifying your descriptions, but also your application pages. They must be responsive and simple, not to discourage applicants. The figures are compelling: the application rate drops by 365% when the application process takes more than 15 minutes. Try to limit the number of steps and keep to the essential criteria, apart from the traditional cover letter and CV. In short: think candidate experience.
Beyond the devices used by candidates, the place where recruitment takes place is evolving. Our study on candidate experience shows that in 2020, 29% of candidates actively searching, no longer use job boards, and 36% of them use social networks for information. To recruit effectively, modern recruiters must therefore broaden their horizons. They must increase the number of touch points and extend their search to passive candidates. Programmatic recruitment can be a relevant solution to reach these profiles.
This innovative HR solution makes it possible to target Internet users according to the criteria defined upstream by the recruiter, and show them job offers through advertising, throughout the web. Online users can discover a job offer in the form of a banner ad by browsing their favourite media, listening to music on Spotify or scrolling through Facebook. Programmatic also relies on an adapted distribution context, at the most relevant times and days to reach your candidates. In short: an effective solution to adapt to the changing needs of candidates.
Recognise yourself? Now all you have to do is move on to the next step - distribution. Psssst: to go further, discover our advice to optimise each step of your recruitment process 👇