As a tool for attracting and retaining talent, the employer brand is a strategic topic for companies. It is often at the top of the communication priorities for recruiters, but it is a major challenge. How do you build your action plan? What must it contain to be effective? Where do you start? So many questions that will find their answers in this article.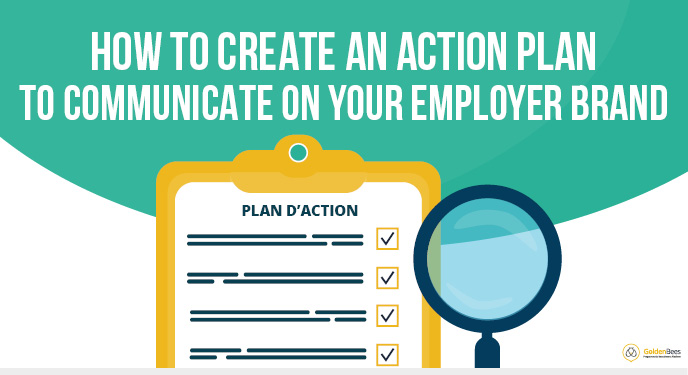 1. Step #1 of the action plan: define a strategy
Rule n°1 to define your action plan: take the time to think about your employer brand. Don't go headfirst in a project without thinking about the objectives that are consistent with your company's needs and identity. The action plan only makes sense if it reflects a previously defined strategy. In order to optimise your results and implement a relevant action plan, several elements need to be defined.
a. Know yourself
Conduct an audit to clearly define your employer brand. By identifying the fundamentals of your company, the values on which it is based, your singularities, you lay the foundations for a consistent action plan aligned with who you are and your ambitions. If you would like to know more about employer brand auditing (or EVP for Employee Value Proposition), read this article.
b. Set clear objectives
You may have different objectives, just like you have different targets. Attractiveness, loyalty, reputation: what are you looking for? In what order and to what extent? What type(s) of candidates are you trying to attract? Millennials or Seniors? Developers or marketing managers?
c. Market monitoring
Chances are that your problems are encountered by other companies, and that they may have already solved them. What do they do? How do they communicate about their employer brand? Use their experience. Drawing inspiration from others and their best practices is an opportunity to challenge your ideas, to open up the field of possibilities and to improve your strategy.
Based on these elements, you now have the core elements of your employer brand. The success of its implementation will depend on the relevance of its content and the support it receives. Thus, integrating all stakeholders - communication/marketing and HR, but also other audiences who can share or convey the message (managers, employees, executives) - is a valuable prerequisite for implementing your action plan.
2. Step #2 of the action plan: organise your content distribution
You now have everything you need to define a relevant action plan, consistent with your organisation and culture, and in line with your ambitions. Bringing out your uniqueness will then be a major challenge for your employees, both to share and support your communication messages. As well as for your potential candidates who want to join you. But in concrete terms, what are the components of an action plan to communicate on your employer brand? What subjects should be addressed and through which channels?
a. Find the right distribution channels
The choice of media and user experience will be decisive in winning over potential candidates and employees. Also, the channel you choose may be different depending on your audiences and objectives. As such, social networks are a powerful medium for highlighting your brand or your CSR commitments, just like display campaigns. Similarly, programmatic recruitment is a powerful solution for automating the distribution of your job offers on the media platform where your targets are.
b. Identify the relevant topics for your targets
In order to meet the increasingly demanding expectations of your different audiences, companies must develop relational strategies where each message is designed for an audience. It goes without saying that these messages must be aligned with the reality of the company, its identity and consistent with the issues at stake. Inbound Recruiting is the perfect tool for this.
By creating a long-term relationship thanks to the interest generated by your communication messages, you create a community that listens to what you have to say and is receptive to your opportunities. The topics are vast. Whether it's a testimonial from an employee promoting his or her job, a virtual tour of your premises or your social commitments, there is no shortage of content to enhance your employer brand.
c. Plan your actions and involve your teams
By scheduling your actions according to your priorities and your news, you will create a regular presence for your targets. This calendar is a valuable tool. In addition to planning, it allows you to integrate into your communication actions the various parties involved in the company. If communication and human resources are the driving force, they can also rely on management or on a network of employee-ambassadors, who will be powerful advocates of the company's attractiveness.
The nature of the relationship with candidates and employees is changing. It is necessary to know how to adapt one's organisation, while remaining consistent with its purpose.
For this reason, there is no single or one-size-fits-all action plan. It corresponds to a context, in part immediate, but also to corporate ambitions and to a reflection of the company's needs. All of this, while adapting to the expectations of its targets: a difficult balance that makes managing and monitoring one of the key elements of success.
3. Step #3 of the action plan: use data
When we talk about an employer brand, we often have elements that are subjective, linked to image and reputation. How do you know if your communication strategy is effective?
Our best advice for a successful communication strategy is to use data. Combine KPIs (Key Performance Indicators) with your action plan to adjust your campaign in real time: evaluate the interest of candidates in your message, the performance of different communication channels, identify the topics that engage the most.
Data can help you fine-tune your campaigns, but it's not the only benefit of using data. The data collected is also a source of information that improves your knowledge of the behaviour and expectations of your targets. In short, it's a small gold mine, which would be a shame not to take advantage of.
In order to properly promote your company, communication should not be limited to how information is distributed. It has become essential to think of the employer brand as an interaction. The one-sided conception of the employer brand is a thing of the past: today a company must give meaning to its actions, build a two-way relationship and listen to candidates. By sharing its distinctive features, its authenticity and its singularity, a company will be able to firmly establish the fundamentals of its employer brand and stand out from the war for talent.
These articles may also be of interest to you: