Recruitment is one of the cornerstones of a company's strategy. Today, standards have changed and techniques, now less company-centric, give priority to the candidate's interests. This is called inbound recruiting. A real seduction approach inspired by marketing and built around content strategy, where the company targets its candidates with the right message at the right time.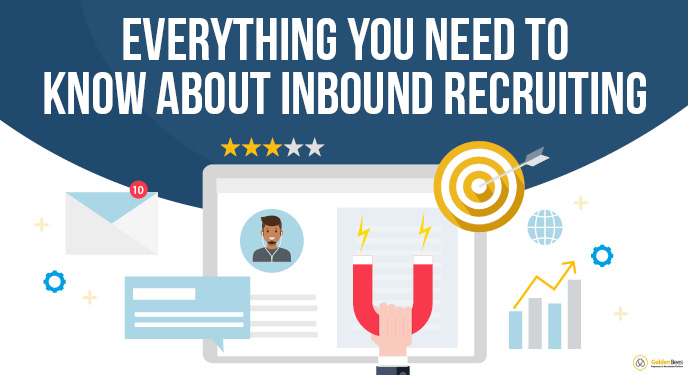 1. Inbound Recruiting fundamentals
Recruiters no longer force themselves on candidates, but rather seek to attract them, then recruit and keep them within the company. As an approach stemming from HR Marketing, Inbound Recruiting invests the entire company strategy - starting with the employer brand and reputation. According to a Hubspot study, 70% of job seekers start their search using Google. The company must therefore create, distribute and share relevant content that meets the expectations of its potential candidates. The best strategy is to define candidate personas in order to draw up real professional profiles, including behavioural elements: for example, look at the influencers followed by your target, their online behaviour, their favourite media, etc...
2. Recruitment marketing
Inbound recruiting draws its inspiration from inbound marketing. The target is no longer a prospect but a "talent" and the job offer, compared to the product, becomes the ultimate must-have. The company can use a number of tools to implement an inbound recruitment strategy, such as the main principles of the AARRR framework:
A for acquisition: the candidate seeks information about the company, mainly through informal channels.
A for activation: the aim is to encourage the candidate to show interest in the company by providing professional content.
R for retention: this is where the company applies the complementary tools of its inbound recruiting strategy to ensure the candidate's commitment. This enables us to build up a pool of candidates to retain and contact as soon as your needs become clearer.
R for recommendation: convert candidates from passive to active. This is the concept of employee advocacy: now that they have become employees, the company can use their network and turn them into employee-ambassadors.
R for revenue: the candidate has become an employee. The company, while continuing to nurture relationships and loyalty, can also assess and measure the effectiveness of its approach and the ROI of its recruitment lifecycle.
3. 4 good reasons to implement an Inbound Recruiting strategy
a. To enhance your employer brand
Conveying your employer brand through expert content allows you to enhance your know-how and broaden your audience. Make sure that the message you send out is carefully crafted so that it is in line with reality. You can create content around your projects, your commitments and your values. Involve employees to talk about their work. Are you an expert in your field? Organise conferences, speak at professional events. In short, share your vision as an expert by relying on Inbound Recruiting.
b. For a better candidate experience
According to the IFOP Cadremploi 2017 survey, 85% of managers consider the information on corporate culture to be important. The use of Inbound Recruiting is essential to make people want to join your teams. Put yourself in the shoes of a candidate, share your daily company life. Describe in a few words why working at your company is great.
c. For a more diverse candidate audience
As reputation builds up, more and more potential candidates with diverse profiles and passive candidates will be impacted. According to a study by La Super Agence, 75% of professionals are passive candidates. Business content can, for example, broaden your audience beyond your company's sphere of influence.
d. To reduce recruitment costs
According to a study by Link Humans, companies with a strong employer brand reduce their hiring costs by 43% and receive 50% more qualified applications. By increasing the number of contact points with your company and enhancing your employer assets, you will increase your attractiveness with candidates.
4. Companies who successful use Inbound Recruiting
Implementing an inbound recruiting strategy is essential to make your company stand out. We searched the web to find the supporters of this HR marketing technique. Here's a closer look at these inbound recruiting experts.
a. Hubspot's culture code
Founded in 2006, HubSpot is based on inbound marketing. Their recruitment has benefited from their marketing background and expertise in content creation. Employees created a presentation to promote the company's culture. No less than 128 slides: as far as corporate culture is concerned, we take it seriously at Hubspot. It's an approach that paid off: Hubspot's Culture Code has reached more than 5 million views on Slideshare, and drawn many candidate applications.
b. Orange's career website
Orange Group, a french telecommunications company, has heavily invested in its career website. The teams have taken care to reflect the company's identity throughout the business pages - a special mention on the Cybersecurity page entitled "Valiant hacker, nothing is impossible". The group has created a number of resources to attract candidates: a platform to interact with employees and ask them questions about their daily work life, for example. The company has also rolled out a series of videos about Artificial Intelligence. This is an excellent way to showcase its expertise and enhance the value of its employees.
c. Ubisoft's media

Reviews, interviews, articles, features: Ubisoft has launched Ubisoft Stories, its own media in 2019 to deliver its market vision. A wealth of resources and a fine editorial line to communicate on news and challenges of the video games industry and society as a whole. Everything is covered: evolution of motion capture, introduction the work of "World Logic Designers", understanding mobile gamers, and the construction of the Assassin's Creed worlds. So many entry points to attract and seduce passive talents.
These articles may also be of interest to you: