Recruitment has become increasingly digital in recent years. Whether in terms of tools, methodologies, uses or even the job, recruitment and the HR department are going digital. Recruiters must now deal with an environment where the use of technology has become essential. From targeting candidates by their preferences, to automating tasks and using data, the digital recruitment revolution is here.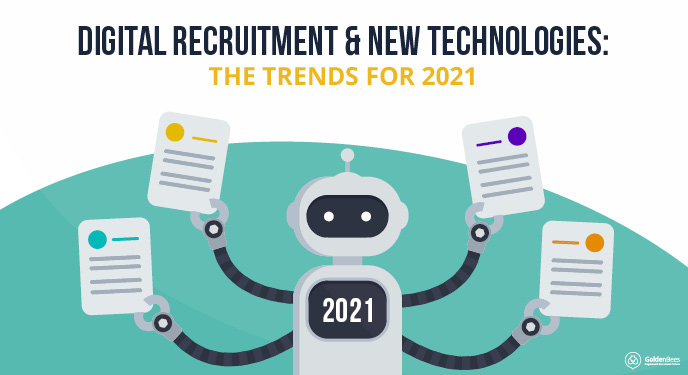 Digital recruitment is now a reality. Its deployment is well under way, to varying degrees depending on the organisation, ranging from the simple collection of profiles to the integration of recruited candidates. The contribution of new technologies goes far beyond the development of tools or techniques. It is a whole new business and new challenges that digital recruitment addresses:
It strengthens the employer brand in a highly competitive job market,
It contributes to a better understanding of audiences,
It saves time,
It renews the approach on finding candidates and transforms the work of recruiters.
Here's an overview of the trends and new technologies in digital recruitment.
1. New technologies to find the right candidates
a. Artificial intelligence to help recruiters
Although Artificial Intelligence is known of recruiters, it is still very little used. Recruiters are nevertheless aware of its potential: 53% of them believe that it will help optimise their productivity. However, only 10% currently make a significant use of it (Source: HR Research Institute). What are the opportunities of Artificial Intelligence in digital recruiting?
A larger pool of candidates, highlighting certain skills and/or soft skills that are difficult to find through traditional channels,
The automation of repetitive or time-consuming tasks, such as processing applications, evaluating or pre-selecting of candidates.
Precise targeting of internal and external candidate profiles
Improved visibility of job offers
Several solutions help you take advantage of artificial intelligence to improve your recruiting process. This is especially the case for programmatic recruitment, which is currently experiencing a major boom. This innovative HR solution automates the distribution of job offers and to generate qualified CVs. Programmatic displays employer-branded advertisements or job offers to active or passive candidates online. Campaigns are continuously analysed to adjust investments in real time. The results: recruiters save time, a greater number of qualified applications and reduced costs. A solution for the future, which highlights the growing importance of performance monitoring in HR.
Internal mobility also benefits from the growth of Artificial Intelligence in human resources. New solutions now enable employers to identify internal employees to meet the company's recruitment needs. They automatically match employee skills with vacancies to improve internal mobility.
b. Inbound Recruiting, a major trend in digital recruitment
Inbound Recruiting is about attracting passive talents to join a community where they will be nurtured and converted into candidates when the time comes. By activating various levers such as SEO, company websites, career web pages or blog articles - Inbound Recruiting improves content visibility, fosters your audience's interest and contributes to recruiting proactively. Investing in the long term means giving yourself the means to recruit better, faster and at a lower cost. This attention to candidates, encouraged by the Candidate Relationship Management (CRM) trend, works even better with an SEO strategy, attracting candidates from search engines. This approach is also being adopted for job offers, with the rise of Google for Jobs in particular, which underlines the importance of good SEO for job offers. By developing your Inbound strategy, you provide your audiences with an improved candidate experience.
c. Chatbots, the first contact point with candidates?
Previously used in marketing, chatbots are making their way into the world of digital recruitment. According to an EasyRecrue study, 82% of candidates believe that the ideal interaction with a recruiter is a mix of innovative technology and personal, human interaction. Chatbots would therefore be the ideal solution to start the conversation with potential candidates. The chatbot is now positioned as a new link in the candidate-company relationship. These conversational agents, generally implemented on career websites, enable direct conversation with candidates on the basis of pre-recorded questions and pre-defined scenarios according to profiles and expectations. While some chatbots can directly provide candidates with matching job offers, others can also pre-select CVs automatically.
2. New technologies for filtering applications
While new technologies save time for recruiters and bring more efficiency, candidates also benefit from this change. As they also help limit the bias linked to discrimation, giving equal opportunities to all.
a. CV sorting solutions
Artificial Intelligence is also found in CV screening/matching solutions. Here, it is used to assess the match between a CV and a job offer. The tool will then search for the best match between the candidate's profile and training experience, skills, soft skills and other criteria.
Many recruiters are now using these solutions to save time on screening candidates. There are several sorting methods to match the needs of recruiters, for example: a scoring system (scoring) or a semantic analysis of the CV (parsing) can be used. Applications are then ranked by relevance for the open position.
b. Postponed interviews, a must for candidates
This recent trend is promised to a bright future in digital recruitment. According to a study by EasyRecrue, 79% of candidates did a pre-recorded video interview for the first time in 2020. The approach is simple: the company sets up the interview by asking questions, the same questions for everyone, and indicating the time allowed for answering them. In return, applicants reply with a video. All the recruiter has to do is watch them and share them with the managers involved. For companies, pre-recorded interviews speed up the hiring process by reducing the pre-selection time. They make it easier to compare candidates on a shared basis. Finally, they make the process more collaborative thanks to the sharing functionalities between recruiters and managers. For candidates, this is a great opportunity to enhance their profile, personality and soft skills, and to express much more than just the content of their CV. 92% of them say they liked the experience and 83% have a positive image of the company that offers this method. In the end, the candidate experience becomes more alive, friendly and innovative.
c. Blockchain to verify qualifications
The blockchain also seems destined to transform the job of recruiter. According to the study we lead on French recruiters regarding recruitment challenges in 2020, 40.8% of recruiters consider that the use of verified data has an impact on the way they recruit. They think 60% believe that the impact of this new use is positive.
Checking diplomas or looking for references is a time-consuming task for recruiters. Saving them this work will bring more consistency to the process and more authenticity to applications.
3. New technologies to help the candidates project themselves
Productivity gains and the automation of tasks are recognised as the main advantages of new technologies in recruitment. However, these are not only intended to save time. Some of them aim at facilitating projection within the company through augmented and interactive experiences.
The digital recruiter can now rely on different immersive tools to attract candidates. There are many of them, but they all have one thing in common: interactivity and, in many cases, a fun aspect. A renewal that is necessary to attract new generations and modernise recruitment.
a. Virtual or augmented reality
The use of virtual or augmented reality is gradually expanding in the world of human resources. An augmented visit to the company premises is a great way to introduce the teams, the atmosphere and above all the working environment. For example, Ubisoft's teams had developed a 360° video to present their premises.
This technology can also be used to help candidates see themselves in a professional situation. The recruiter will then be able to assess the candidate's skills for the position. For candidates, they will be able to see whether they are suitable for the job or not, and see what their potential daily tasks might be.
b. Serious games
Serious games help evaluate candidates in a fun way, by encouraging them to adapt and adopt a different approach. It is a more in-depth evaluation method than a simple practical case. The serious game focuses the candidate's attention on a fictional situation. This way, it helps reduce the recruitment bias linked to interview stress: the candidate adopts an attitude close to the normal one, which allows the recruiter to better assess him/her.
Serious games, which are very popular with the younger generation, can also call on employees to give more substance and life to the game.
Recruitment is gradually becoming digital. Recruiters now benefit from management and decision-making tools that reduce the length of their processes. Far from replacing recruiters, these tools make it possible to transform recruitment approaches. By optimising the candidate experience and outsourcing low added-value tasks to these business solutions. New technologies have a role to play in the attention paid to candidates, the famous "Candidate Care".
These articles may also be of interest to you: