To attract the best talent and stand out, a company must make its employer brand visible on the most relevant channels. In this article, we will go through the most essential resources to integrate into your omni-channel strategy in order to enhance your employer image and boost its impact!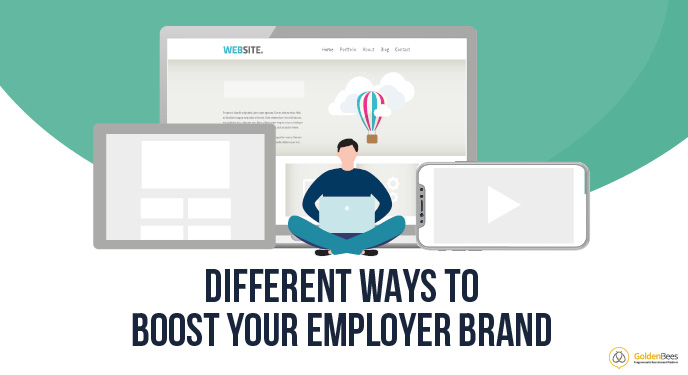 As a pillar of HR marketing, the employer brand is the image that the company reflects both externally, towards candidates, and internally, towards its employees. A good strategy to promote visibility, will ultimately encourage candidates to apply for a job. Such strategy requires the implementation of several tools and a multi-channel strategy. Let's have a closer look at the tools that will help you improve your employer brand.
1. The career website, a showcase for your added value
It must be engaging, comprehensive, with a great user experience! As a showcase for your company, the website is one of the main entry points to the outside world. It must set you apart from the competition.
To make it attractive, you need to work on :
A modern design with a great user experience
Smart and interesting content for your audience
Videos showing the working environment and the teams
An area dedicated to your business expertise: show how you stand out in your sector
An "About us" tab listing your values and what sets you apart from the competition.
These components are the building blocks of a "booster" website for your employer brand. Make sure that the application form is visible and the list of your vacancies is easily accessible. Add to this a call-to-action for candidates, and you multiply your chances of getting applications thanks to the attractiveness of your employer brand.
2. Social networks, key areas for communicating your employer image
Social networks are essential channels in your strategy. They allow you to communicate on the daily life of your company with photos or videos, and to post employee testimonials.
Essential for recruiters since the advent of 2.0 recruiting, social networks are a means of communication, but above all a privileged means of interaction with your potential candidates. In a study conducted by Golden Bees, 45% of candidates surveyed said they were receptive to employer brand messages on social networks.
They are a mirror of your corporate culture and should make talented people want to join you. Instagram, LinkedIn, Facebook, Snapchat... each social network, with its specificities, must serve your company's employer brand.
3. Newsletters as a recruitment medium
Newsletters are often overlooked, yet they contribute greatly to strengthening the image of your employer brand. The e-mail creates a direct link with your contact base and allows you to convey your company's values. It is a privileged medium for sharing your corporate culture, your jobs, your success stories...
Tools can be added to it to facilitate the engagement process, such as call-to-actions to encourage click-throughs, a link to your website or social networks, etc. Internally or externally, the newsletter brings the company closer to its candidate audience. It invites engagement, allows you to spread strong messages and maintain a link with your pool of applicants.
4. Job boards
Specialised job boards often have their own specific features and candidate targets, such as middle-management profiles and support functions for JobCentre. These websites often provide companies with communication spaces that will enable you to go out and look for candidates in active search to share your employer brand messages with them.
On these job boards, you will often be in competition with other companies seeking to attract the same candidates as you, which makes it important to stand out from the crowd!
To stand out on these websites, and to highlight your value, it is necessary to adapt your message to the candidate and include a link to the company's website or to your career page. Your employer branding message should make the candidate want to know more about you and help them imagine themselves working at your company by giving them an insight into their future day-to-day life.
5. DOOH
DOOH (for Digital Out-Of-Home) brings together urban digital displays and indoor digital displays in transit areas (shopping centres, train stations, airports, etc.).

This medium makes campaigns more attractive to the public and boosts the employer brand by allowing companies to adopt an innovative marketing approach. For example, it is possible to target and personalise the message according to geographical areas for more precise audience targeting. According to the Golden Bees study, 17% of candidates from all profiles say they are more receptive to a company's recruitment information on advertising displays.
6. Streaming platforms
By running audio ads on streaming platforms such as Spotify or Deezer, recruiters can reach a wider and younger audience.
According to our study on candidate expectations, Millenials (18-34 year olds) are more receptive on social networks, such as Youtube and other streaming platforms. Audience segmentation enables you to broadcast your employer brand on this medium to a chosen target (socio-demographic data, location, etc.).
In terms of brand awareness and retention, vocal advertisements have largely shown their efficiency. By using this medium, the company boosts its employer brand on an innovative media with a strong memorisation effect.
7. What media should you use to promote your employer brand?
An optimal employer branding strategy involves being forward-thinking and omnichannel. Promoting the image of a modern company is a great way of attracting young recruits and the best talent.
Communicating employer messages in innovative ways enhances the candidate experience, builds loyalty among existing employees and therefore promotes the employer brand. It is a key way to generate qualified profiles and reach passive candidates who do not visit job boards. It speeds up the recruitment process and reduces its cost. The programmatic recruitment tool developed by Golden Bees is a great ally for communicating performance and boosting your employer brand on a multitude of media. Programmatic recruitment allows the candidate to be reached at any moment across the web: on display ads, on job aggregators, or even on social networks for example (video below).
By creating an HR advertisement using these dedicated tools, you can showcase your business, redirect users to your career page, create recruitment tools and reinforce the image of your employer brand.
These articles may also be of interest to you: